In Part 2 of the Vit-Buckle Society's Virtual Series, Ajay E. Kuriyan, MD, MS, imparted innumerable scleral buckling pearls. With residents, fellows, and fully trained surgeons who may not be comfortable with certain aspects of scleral buckling in mind, Dr. Kuriyan provided tips and tricks from start to finish that any one of us could find valuable.
Although scleral buckling has declined in popularity with the emergence of vitrectomy, it certainly still has a role in the vitreoretinal surgeon's armamentarium. In his presentation, Dr. Kuriyan listed a number of reasons to consider buckling in the repair of rhegmatogenous retinal detachments:
- They provide support of the vitreous base when used in conjunction with vitrectomy;
- They offer potential for avoiding unnecessary intraocular surgery;
- There is a high reattachment rate; and
- There are lower rates of retinal displacement with buckling compared with intraocular surgical options.
Below is an edited version of my interview with Dr. Kuriyan, followed by my notes on additional points that he made.
Brian K. Do, MD: Where do you see most people struggle as they're getting started with scleral buckling? What tips can you offer these folks?
Ajay E. Kuriyan, MD, MS: Whenever I adopt a new technique, I start by making a surgical checklist for supplies and intraoperative steps. I try to reach out to a surgeon experienced with the technique, if possible, to review my plan and help me anticipate any complications and understand how to manage them. Being as prepared as possible always helps me feel better about trying something new.
Another important factor is patient selection. Try to select patients with perfect views and easy-to-visualize breaks initially. If you're less comfortable with cryopexy, using chandelier illumination and visualizing the break under the surgical scope may be helpful.
Dr. Do: One of the interesting things you propose is that we consider performing cryopexy before prepping and draping the eye. What are the advantages of making this change to the usual surgical sequence?
Dr. Kuriyan: I have to thank my colleague, Michael N. Cohen, MD, for introducing me to this technique. I like this technique because the fundus view is the best it will be all case, it's easy to manipulate the patient's head position, there are no concerns for contamination, you can put the indirect on yourself and manipulate it without baggies, you can use lenses that haven't been damaged during sterilization, and you're more comfortable and less prone to overheating when you're not wearing the surgical gown.
Dr. Do: Have you ever seen anyone use belt loops with an encircling element larger than a No. 41 band?
Dr. Kuriyan: Yes, I have used it for a No. 42 as well. You just need to make your belt loops longer from anterior to posterior. If you have very posterior pathology that you're trying to support with the band, this may be harder, but you can do it for most cases. Pulling the band on both sides of the belt loop—like stretching a rubber band—makes it thinner and easier to pass through a tight belt loop, if you didn't make it long enough.
Dr. Do: How do you decide in which cases drainage is appropriate?
Dr. Kuriyan: I usually don't drain if the break can be supported by a gas bubble or if there's only shallow fluid, to eliminate the risk for any subretinal hemorrhage. If there is a break that cannot be supported with a gas bubble, especially if the detachment is bullous or chronic, I tend to drain.
Dr. Do: How do you decide which eyes get a gas bubble and why?
Dr. Kuriyan: If the break can be supported by a gas bubble, I usually use it to hasten the resolution of the fluid. Part of this is driven by the desire not to drain in those patients in order to decrease the risk of subretinal hemorrhage that extends to the macula. It's a rare complication but can potentially have a profound negative impact on the patient's postoperative vision.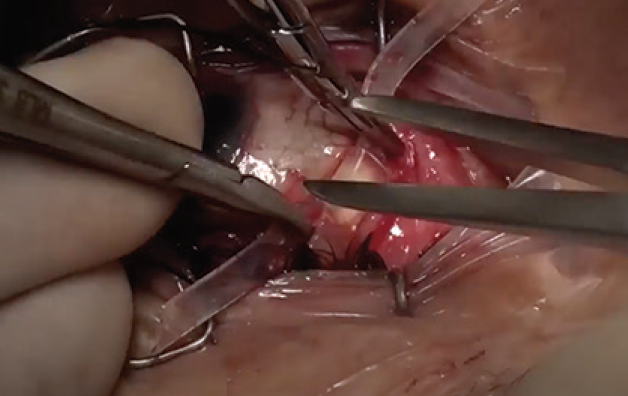 Tenon Dissection and Isolation of Rectus Muscles
Dr. Kuriyan stressed that, when performing dissection of Tenon capsule and isolation of the rectus muscles, it is important to ensure visualization of bare sclera on either side of each muscle (Figure 1). Effective muscle isolation is vital to avoid splitting muscles and, secondarily, to prevent diplopia.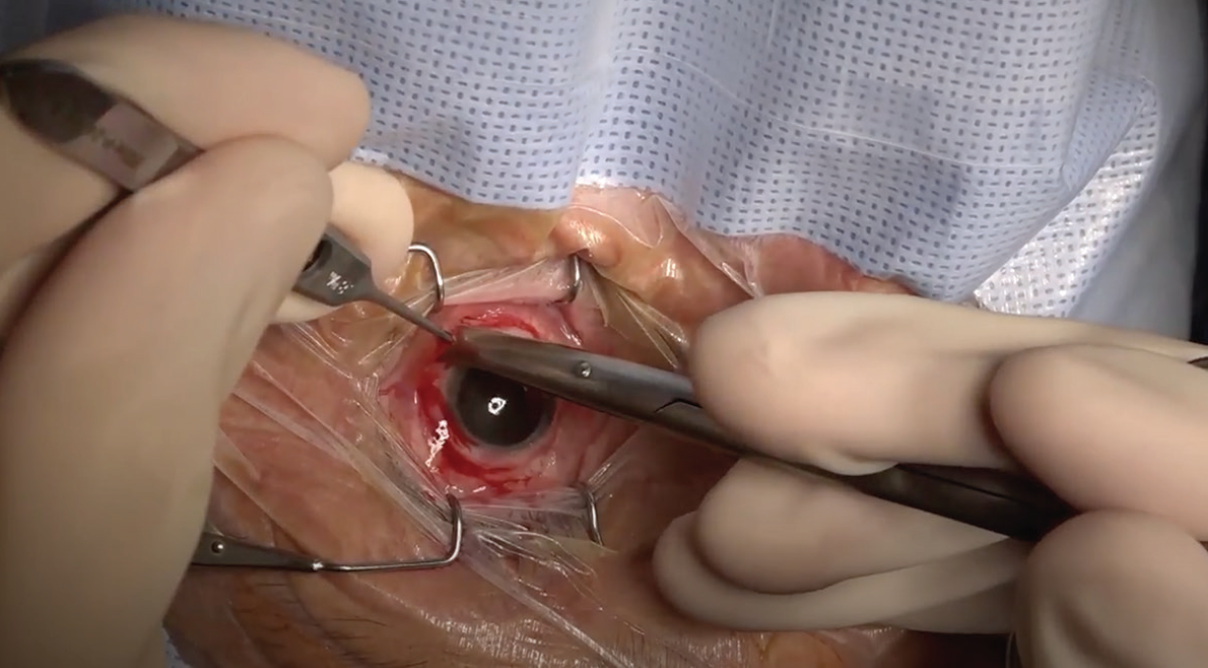 Figure 1. During scleral buckle surgery, isolation of rectus muscles helps to avoid muscle splitting and diplopia.
Marking the Break
Dr. Kuriyan recommended doublechecking the mark or marks by depressing the area of the marks under direct visualization.
Element Selection
Dr. Kuriyan prefers the No. 41 band, which can easily be sutured or fixated to the sclera via belt loops. There are, of course, many other encircling elements that can be used. Both the No. 240 and No. 41 bands can be used with both symmetric and asymmetric "tire" elements. The No. 240 band can similarly be fixated using the belt-loop method (Figure 2).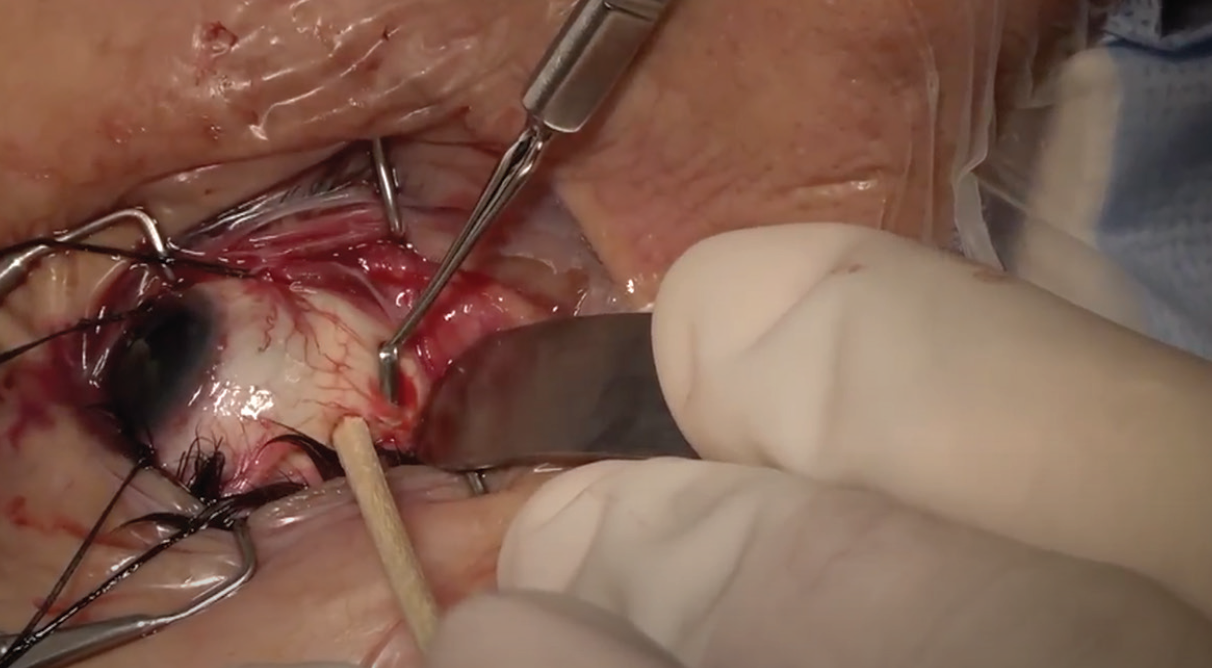 Figure 2. Use of belt loops for securing an encircling band during scleral buckle surgery is a preference of Dr. Kuriyan.
Buckle Fixation
Scleral passes for buckle fixation are an art in and of themselves, and trainees should focus on getting comfortable with the associated ergonomics. Dr. Kuriyan said he prefers placing the band under the muscles before suture fixation, as opposed to preplacing the sutures, but the procedure can be successfully completed either way.
In the creation of belt loops, the partial-thickness radial scleral incisions can be made using Dr. Kuriyan's preference, which is a No. 64 Beaver blade (Beaver-Visitec International), or a guarded diamond blade or crescent blade. The partial-thickness dissection can then be performed using either a Castroviejo scleral dissector or a crescent blade. For performing this step, the use of a cotton-tipped applicator or other blunt instrument for globe fixation can be helpful.
Sleeve Placement and Tightening the Buckle
A helpful tip Dr. Kuriyan shared in his talk is to pull down toward the globe with the first end of the encircling band placed through the sleeve so as to help make room for insertion of the other end.
Dr. Kuriyan reviewed some basic geometry that helped attendees to visualize his suggestions in regard to buckle tightening. These principles supported his suggestion to tighten the band by 11 mm lengthwise in order to achieve an additional 1.75 mm of radial indentation. This can be approximated by having locking needle drivers on each end of the encircling band and tightening the band until the measured distance between them has increased by 11 mm.
Conjunctival Closure
Dr. Kuriyan recommended closure with gut suture to reduce risk of granuloma formation and to provide overall improved comfort for patients. Burying sutures may be helpful as well.